Legal Expense Insurance
What is Legal Expense Insurance?
When you're stuck with an unforeseen legal issue, replace thoughts of lost time, stress and money with easy access, peace and protection. Be empowered with your Legal Expense Insurance coverage from Peace Hills to defend or pursue your legal rights. With this coverage you have access to general legal advice and guidance, plus the security and peace of mind knowing your costs of pursuing legal action will be covered.
We have partnered with DAS Canada to add this comprehensive coverage to specific Personal Property and Farm Property Package policies effective Dec 1, 2017 in Alberta, and April 1, 2018 in British Columbia, Saskatchewan, Manitoba, Yukon, Nunavut and the Northwest Territories . Legal Expense Insurance coverage will be included in all Peace Hills Homeowner packages, Tenant/Condo packages along with our "Farm Plus" packages for Homeowners, Hobby Farm and Mobile Homeowners.
Your Legal Expense Insurance policy:
⪧ Provides financial coverage for a variety of potential legal events,
⪧ Empowers you to pursue or defend your legal rights, and
⪧ Offers you unlimited access to general telephone legal advice.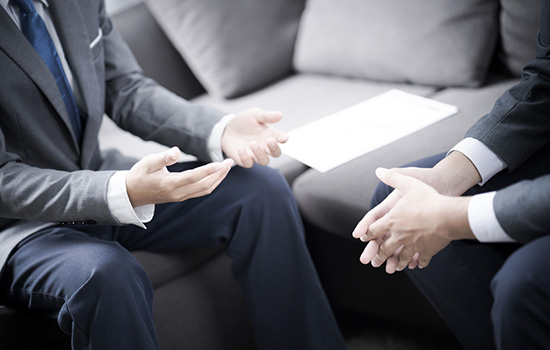 Why has Peace Hills added Legal Expense Insurance to these policies?
After conducting extensive research, we discovered there is a significant need and demand for access to justice in Canada. This insurance coverage will benefit our policyholders by giving them the tools they need to protect themselves and their families.
In the last five years alone, 55% of Canadians who accessed the legal system were not represented by a lawyer, and 63% of all Canadians did not consult a lawyer when faced with a legal issue because they believed it would be too expensive.
What do 'legal costs' include?
⪧ Legal costs include items like:
⪧Lawyers' fees
⪧Disbursements (expert reports, court fees, etc.)
⪧Your opponent's legal costs (should you lose your case and be required to pay them)
Will my Legal Expense Insurance cover any legal dispute?
No. While your policy is designed to cover a wide range of legal disputes, it will not cover legal issues relating to family law, real estate law, etc. The coverage you do have is detailed in the policy wording. Please read it carefully, and, if you are unclear about your coverage, speak to your insurance broker.
However, the telephone Legal Advice Helpline, included in your Legal Expense Insurance policy, provides you with general legal advice on any personal matter. General legal advice will be provided, even if your question is not covered by the policy. For example, although family law is not covered in the Legal Expense Insurance policy, you can receive legal advice regarding family law matters.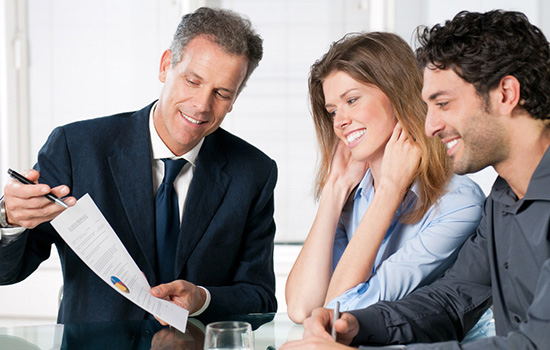 Who do I call for legal advice?
You can call the Peace Hills Legal Advice Helpline at 1-866-568-1204. Our toll-free Legal Advice Helpline is available to you from 8:00 am to 12:00 am (local time), 7 days a week. Your call will always be answered and, in an emergency situation, a legal representative will be made available 24/7.
Please note that your broker cannot call the Legal Advice Helpline on your behalf, for privacy reasons.
For further information on Legal Expense Insurance, please refer to our brochure, or FAQ's.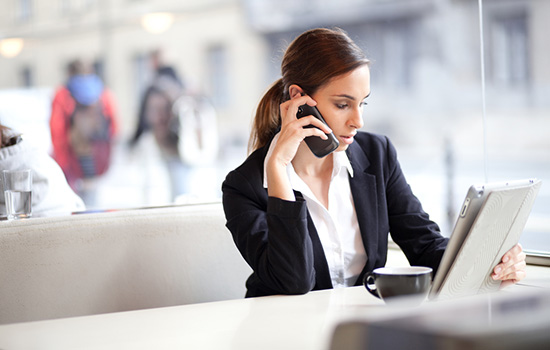 ---
Legal Expense Insurance Information Pack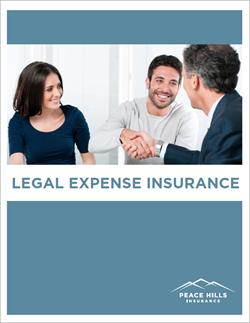 FAQs
Quick Reference Guide
Claims Examples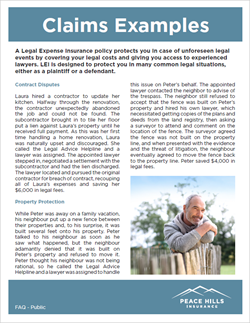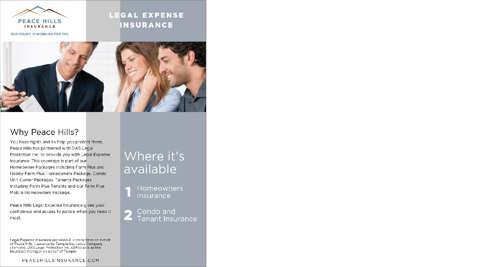 ---
FIND A BROKER
With brokers across Western Canada you can always find great service near you.
Find A Broker