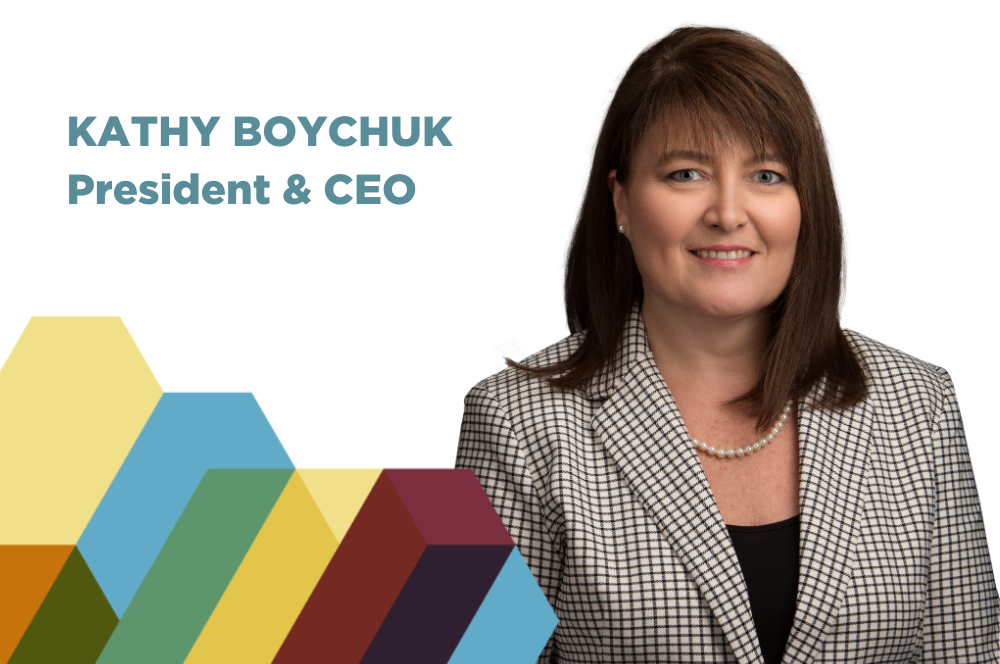 Executive Snapshot: Kathy Boychuk
March 8, 2019  - Kathy Boychuk is the President and CEO of Peace Hills Insurance. She graduated from Business at NAIT (1992) and went on to complete her Certified Management Accountant designation (now referred to as a CPA – Chartered Professional Accountant) in 1995.
Kathy's career spans more than 25 years at Peace Hills, starting as an Accounting Clerk in 1992. She was referred to the role by someone in the Underwriting team, and at the time intended for it to be a short-term gig while pursuing her accounting designation. So much for that! Within the year she progressed into the Finance department, and over the years worked her way up to the Chief Financial Officer position before eventually taking on the role of President and CEO in 2017.
What she loves most about being in the insurance industry are the people. It's very much a people business and Kathy values the relationships she has formed over the years with brokers, vendors, reinsurers and even competitors. She also knows that insurance is extremely impactful to people's lives when they experience a loss, and enjoys the part she plays in making a difference.
Kathy is Peace Hills' 4th CEO and 2nd female in the role. Given that the day of this publication is on International Women's Day, we asked her more about being a woman in a high-level position. She considers herself lucky that she is in an industry where there are numerous female CEO's, so she never felt that gender held her back:
"I look forward to the day when all females feel as comfortable as I did about their opportunity to move to the top. It's not a challenge to overcome – it's one to be met. There have been plenty of challenges throughout my career, but being female was not one of them. I never felt it was going to work against me."
There has been a recent, long-awaited turn in society where being a "female CEO" is something to be celebrated. Kathy's take on it all is simply:
"I celebrate all women who have achieved success, but not because they are female. I want women to be celebrated for their intelligence, their leadership abilities, their knowledge and their emotional balance."
Kathy has been fortunate to have very strong female role-models throughout her life. She looks up to her sister, who is also very successful in her career and taught Kathy to always follow her heart, and live life with honesty and integrity. She also holds Diane Brickner, Peace Hills' retired CEO of 25 years, in very high regard. Kathy reported to Diane for over 20 years and acknowledges that she has been influenced by her in more ways than she likely realizes.
Her advice to ambitious young women getting their start is to always do everything you get a chance to do:
"Opportunities come to those who are willing to work hard to achieve. If there is an opportunity to volunteer or take on something extra, be that person. Knowledge is a powerful thing – ask questions, seek to learn. The more you know about your company's operations, the more valuable you become. Don't wait for the answers, go get them."
In closing, it is clear that Kathy is passionate about her industry and genuinely enjoys coming to work each day. She loves being able to help people learn and grow, solve challenges and facilitate success. On a lighter note, what you may not know about Kathy is that her very first job was at KFC, so she might know something about the Colonel's secret spices, and she is actually deaf in one ear. So if you ever find yourself with her in a social setting, try to nab a spot on her right side!