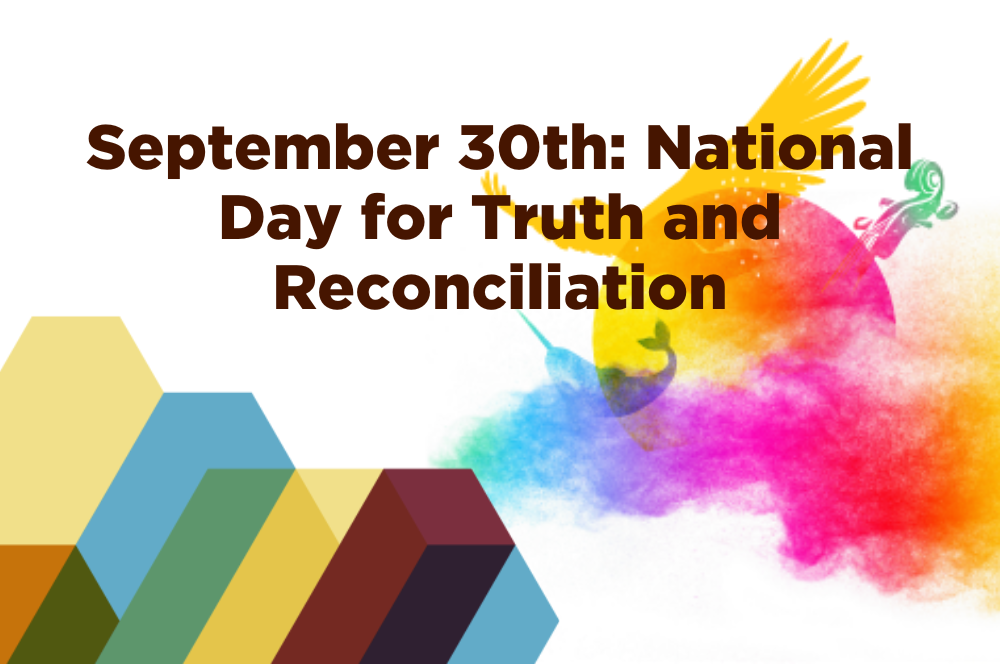 National Day for Truth and Reconciliation
This Friday, September 30th, is Truth and Reconciliation Day in Canada. The day honours the children who never returned home and Survivors of residential schools, as well as their families and communities. In Alberta, it is at the discretion of individual businesses to decide whether to close for the day. All of our offices will indeed be closed, and we have encouraged our staff to use the day as one for learning and reflection about Indigenous history and culture. Peace Hills Insurance is proudly owned by the Samson Cree Nation, and as such we feel it is also important to highlight just a few of the things we are doing as an organization to help move us collectively forward towards true reconciliation.
On our Careers Page, we have incorporated a way for members of the Samson Cree Nation to get in touch with us so that we can "ensure [they] have equitable access to job opportunities"92ii at Peace Hills Insurance. Our Board of Directors have also formed an HR taskforce to increase the participation of Samson Cree Nation members in our company.
In June we "provided education for management and staff on the history of Aboriginal peoples, including the history and legacy of residential schools"92iii via a program called The Path: Your Journey Through Indigenous Canada by NVision Group. You can start your own learning journey today by exploring more about the rich and diverse cultures, voices, experiences and histories of First Nations, Inuit and Metis peoples here.
In 2019 we launched a Charity Partnership Program with Pathways to Education as our first official partner. Pathways is a national, charitable organization breaking the cycle of poverty through education, with a mission to provide the resources and network of support that youth in low-income communities need to graduation from high school and build the foundation for a successful future. To date, 100% of Pathways students in Edmonton and Saskatoon have self-identified as Indigenous, with significant representation in their other locations across Canada as well. Since our Charity Partnership Program's inception, we have donated over $50,000 to Pathways. You can read more about our Partnership here.
In 2021 we committed to a four-year sponsorship of the Friends of the Royal Alberta Museum Society (FRAMS) Indigenous Student Museum Internship (ISMI) Program. The ISMI Program offers First Nations, Metis and Inuit students a paid 16-week internship at the Royal Alberta Museum to further develop their career goals in the fields of cultural and natural heritage. You can read more about our $17,000 commitment here.
Just this month we released a video that we had produced for our company's 40th anniversary. It was important to us to emphasize the role Samson Cree Nation played in getting Peace Hills Insurance off the ground. Our Chief, Vernon Saddleback, and Chairman of the Board, Marvin Yellowbird, are featured in the video, as well as clips from a recent Powwow in Maskwacis. You can view the video here.
Additional Resources:
If you are a residential school survivor looking for emotional crisis referral services, you can call 1-866-925-4419.
If you are looking for education resources for children, the National Centre for Truth and Reconciliation has materials for every age group, as well as for adults and teachers here: https://nctr.ca/education/teaching-resources/education-resources/
Events taking place in Edmonton: https://www.edmonton.ca/attractions_events/schedule_festivals_events/truth-and-reconciliation-events
Orange Shirt Day in Calgary: https://www.calgary.ca/events/orange-shirt-day.html
National Truth and Reconciliation day in Winnipeg: https://www.tourismwinnipeg.com/festivals-and-events/upcoming-events/display,event/11742/national-day-for-truth-and-reconciliation-wag
Events taking place in Saskatoon: https://afcs.ca/event/29/orange-shirt-day/
Events taking place in Vancouver: https://www.insidevancouver.ca/2022/09/21/vancouver-events-to-commemorate-national-day-for-truth-and-reconciliation/
There are a number of free events taking place online throughout the week. For more information, visit https://www.eventbrite.ca/e/truth-and-reconciliation-week-tickets-153491752965
---
Peace Hills Insurance is a home, auto and business insurance provider in western Canada. Headquartered in Edmonton, AB, the company works with about 500 independent broker offices to distribute its products. Their mission statement is to be a unique insurance company that truly cares and is committed to best serving the communities in which they do business.
Press Contact
Katie Keeling
Marketing and Communications Advisor
marketing@phgic.com | (780) 424-3986