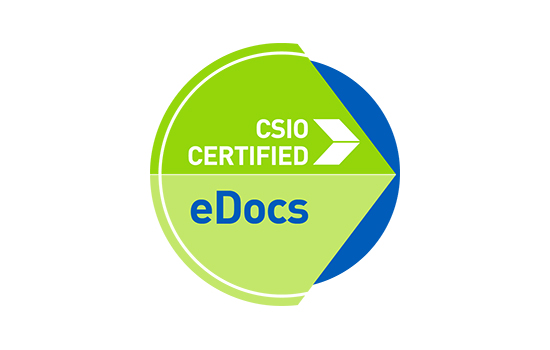 Peace Hills becomes CSIO certified for eDocs
July 28, 2014 - We are pleased to announce that we have recently become CSIO certified for eDocs as of July 4, 2014. We are currently compatible with TAM, EPIC, TBW, SigXP and PowerBroker.
CSIO data exchange standards are company neutral and help solve data compatibility issues, facilitate more efficient and seamless integration of information and improve implementation of technology solutions. CSIO Certification is available to member insurance companies and vendors. eDocs is the first business activity available for certification, with plans to expand the program to cover other activities.
Since its launch, the CSIO eDocs standard has seen a significant increase in adoption across the broker channel. To assist brokers in calculating the time and costs savings of eDocs, CSIO has developed an eDocs Savings Calculator. Available on its website, the calculator allows brokers to determine the daily, monthly and yearly time and costs savings gained through the adoption of eDocs.
Visit https://www.csio.com/resources-tools/csio-certification to learn more about the CSIO Certification program. 
---
July 10, 2013 - Peace Hills Insurance is pleased to introduce eDocs to its brokers. We are able to deliver eDocs to willing brokers that are utilizing TAM, TBW, and PowerBroker, and we are officially certified with those Broker Management Systems (BMS).