Premier Homeowners
As you grow your asset portfolio over time, your insurance should grow, too. We are proud to offer a tailor-made product for those who require a higher degree of coverage to protect a 'premier' lifestyle.
---
What's covered?
⪧ Replacement Cost cash settlement option on dwelling or personal property
⪧ Deductible waiver for fire losses $25,000+
⪧ Computer hardware and software up to $10,000 
⪧ Furs and fur-trimmed garments up to $10,000 (option to buy up to $20,000)
⪧ Jewelry up to $25,000 (max $10,000 for any one item)
⪧ Fire Department charges up to $25,000
⪧ Home Equipment Breakdown up to $50,000
⪧ Identity Fraud up to $25,000
⪧ Service Line up to $10,000
⪧ Wine and Spirits up to $10,000 
⪧ ...and more!
The following limits apply for theft or mysterious disappearance losses:
⪧ Bicycles up to $6,000 each
⪧ Collectibles up to $10,000 (max $500 for any one item)
⪧ Numismatic property (coin collections) up to $5,000
⪧ Stamp collections up to $5,000
Not sure whether you are best-suited for our Premier Homeowners or standard Homeowners coverage? Ask your broker for more information. In the meantime, check out this comparison chart for a snapshot of the differences between these two products:
Eligibility Requirements
Your insurance broker can help you determine if you are eligible for Premier Homeowners coverage, but here are some of the eligibility requirements for this product: 
⪧ Single family dwellings that were built in 1980 or later
⪧ No gap in previous insurance coverage for the last 5 years
⪧ Maximum 1 additional family
⪧ Dwelling is insured to its full replacement value and meets all other eligibility requirements
 
Property Plus
Premier Homeowners, along with our standard Homeowners, Condo Unit Owners and Tenants products, is included in our "Property Plus Program". Review our brochure below to learn more and contact your broker to see which policy is best suited for your needs.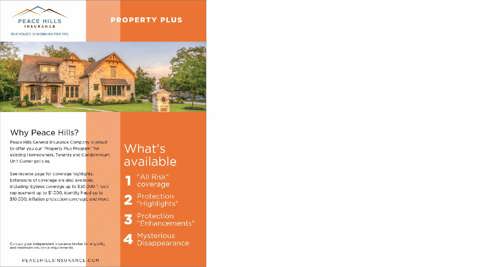 ---
Tips to Lower Your Premium
There are several ways to lower your insurance premiums on both your auto and property policies. An easy way to decrease your premiums is to increase your deductibles. At Peace Hills, increasing your property deductible will result in substantial premium savings. Another easy way to qualify for a discount is to insure both your property and auto policies through Peace Hills.
Here are some more ways you can qualify for discounts on your property policies.
DISCOUNT
HOME
CONDO
TENANTS
If you are over 50 years of age
✔
✔
✔
If your dwelling is less than 25 years old
✔
✔
✔
If you are mortgage free
✔
✖
✖
If a smoke and/or burglar alarm has been installed
✔
✔
✔
If you grant consent to

 

Credit Scoring

✔

✔

✔

If you are a non-smoker

✔

✔

✔
Contact your local independent broker today to see which discounts you may qualify for.
---
Payment Plans
When you buy insurance from Peace Hills, you can choose from three convenient payment plans.
Click here to learn more.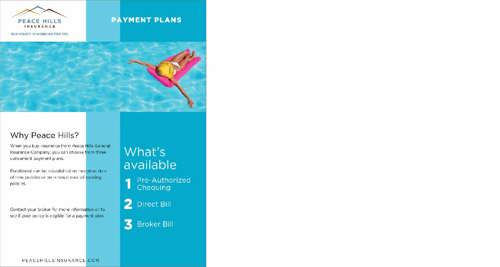 FIND A BROKER
With brokers across Western Canada you can always find great service near you.
Find A Broker